Party Like It's 1945!
Whenever I think about the effect on the economy of a COVID-19 vaccine with 95% efficacy, I picture the photograph below, the defining image of the celebration following Japan's surrender at the end of WWII.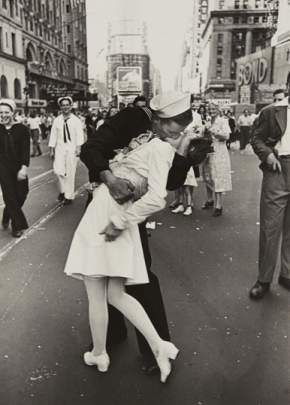 Granted, there's not going to be a single day where we'll have "won" the war against COVID. It will take time to build the manufacturing scale and distribution networks to vaccinate enough people and reach herd immunity. But make no mistake, that humanity has succeeded in making a vaccine (apparently three, so far) this effective in just nine months is nothing short of miraculous, and the resulting economic recovery should prove equally spectacular. Why?
At the most basic level there's simply tremendous pent-up demand for the activities we've been denied or had to curtail since March. I anticipate that people won't just do what they did before but will instead try to make up for lost time. I expect restaurants and bars to overflow and that it will be nearly impossible to get a hotel reservation. Roads will be packed and airplanes full. Live concerts, Broadway shows, and sporting events will all sell out. Just going to the movies or inviting friends and family over for dinner (inside) will feel like an amazing and new experience. If the vaccines do indeed work as well as advertised, there's a celebration coming the likes of which the world hasn't seen since the end of WWII.
As I discussed in my Fall newsletter article, households, particularly in the U.S., have money to spend thanks to unprecedented government stimulus headlined by the $2.2 trillion CARES Act signed in March and a follow-up $900 billion package passed in December. Take a look at the historic surge in the gap between government spending and tax revenue below.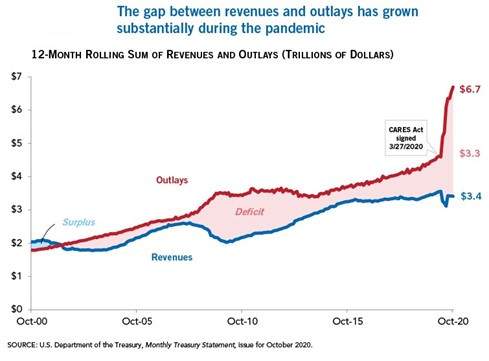 Government spending has so far added more than $400 billion to household income – mostly through forgiven business loans, stimulus checks, and unemployment compensation – than had the pandemic never occurred. Due to the inhibiting effects of COVID-19 on consumer behavior, however, this money wasn't spent but rather went directly into savings. In fact, while the U.S. household savings rate typically ranged between 5-7% of income over the last 20 years, it spiked to an otherworldly 33.7% in April and was still substantially above average at 13.6% as of October.
U.S. consumers' opportunity to spend a historic windfall isn't all the economy has going for it. A strong secular tailwind is propelling the housing market, as millennials have entered their peak home buying years.

In contrast to a decade ago, this year and for many years going forward the largest demographic in the U.S. will be young people at the prime age (25-40) to start a family and buy a home. Despite the pandemic (or perhaps partially spurred by it as people flee cities), the housing market is already red hot. Existing single family home sales, for instance, were up 26.6% in October despite a historically low supply. And millennials are driving the boom. In the third quarter of 2011 people in their 30s accounted for just $62.5 billion in mortgage originations. Last quarter the figure approached an astonishing $300 billion.
Low mortgage rates are also adding fuel to the housing market. The average 30-year rate fell below 2.7% in December, the lowest on record. And low rates are likely to stick around, as the Federal Reserve has committed to freezing short-term rates near zero until "maximum employment" and 2% or greater inflation rates are firmly in place. Note that through November the unemployment rate remained elevated at 6.7% while inflation was up just 1.2% year-over-year.
Finally, amidst the tragedy of the pandemic some good might come, as the mRNA (the "m" stands for "messenger") vaccine technology that looks so successful in fighting COVID could also usher in a new era of scientific discovery that revolutionizes medicine.
The goal of any vaccine is to train our immune system to recognize (so it can fight) a virus should it enter the body. Traditionally, this was accomplished by using a weakened virus or an important piece of a virus's protein coating, which is constructed with the help of mRNA and is unique like a fingerprint.
Here's where it gets interesting: Once you map the structure of a virus's mRNA, you can produce it quickly and in large quantities in a lab. Then (theoretically) you can inject that mRNA into a person where it will stimulate cells to produce the protein (or perhaps just a part, like the "spike" protein on the COVID-19 virus). The person's body then learns to recognize that specific protein structure, fight it with antibodies, and create Memory B and T-cells that "remember" how to make more antibodies in the future. Should the person ever encounter the real COVID-19 virus, their body will be primed and ready to repulse it.
All sorts of advances were required for the theory of mRNA vaccines to become reality like learning how to sequence a pathogen's genetic code, not causing violent immune system reactions, and encasing the mRNA so that defenses in the bloodstream wouldn't immediately destroy it. But after these obstacles were overcome, scientists then had a platform to rapidly create a vaccine for infectious diseases once the pathogen's mRNA structure was known. Fortunately for humanity, this achievement was realized shortly before COVID-19 hit.
How powerful is this new technology? It took biotech firm Moderna just 2 days to design their COVID-19 vaccine, which proved 94.1% effective in later studies. Germany's BioNTech, working with Pfizer, came out with 10 separate candidates in a single day on January 25, 2020, one of which served as the basis for its vaccine that later showed 95% efficacy.
If the COVID-19 virus were to mutate significantly, making the existing vaccines less effective, researchers could quickly tweak their formulas to make new ones. Of course, this also means we now have a powerful tool to tackle any new viruses that might emerge as well as older ones. Moderna is already pursuing vaccine candidates for the seasonal flu and HIV. More amazingly, mRNA technology has shown great promise against cancer with researchers successfully "training" patients' bodies to better recognize and fight cancer cells to prevent metastases. The future is bright!
When I was younger, I tended towards pessimism and cynicism. But I've also endeavored to keep an open mind, and over the past two decades my outlook on the future has evolved towards optimism, tempered by realism. Experience has taught me it's almost always a bad idea to bet against human ingenuity.